Solong Tattoo Complete Tattoo Kit 4 Machines Gun 54 Ink Power Set with Case TK456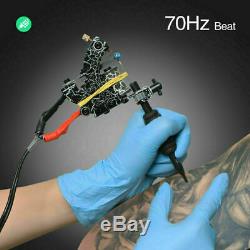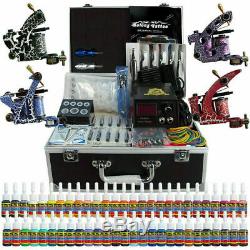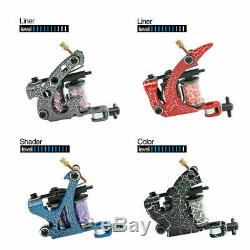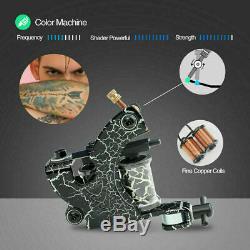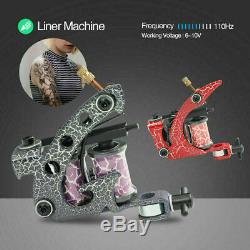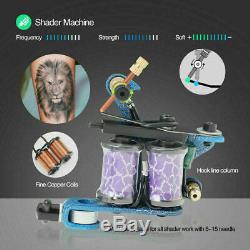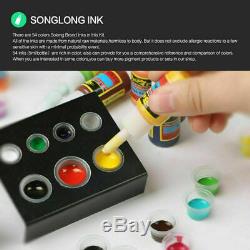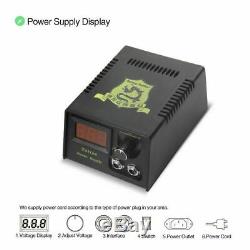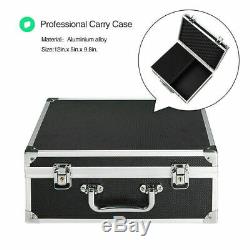 Solong Tattoo Complete Tattoo Kit 4 Machine Gun 54 Ink Power Set Case TK456. 1/ 4 Pro Tattoo Machine Guns for Liner and Shader. 2/ 1 Pro Digital Tattoo Power Supply. 3/ 1 Top foot pedal/Switch. 5/ 1 Set 54 bottles full colors tattoo ink, 5ml/bottle.
All inks are positive colors and sterilized by gamma ray, relable to use. 6/ 50 Pre made sterile tattoo needles, assorted mixed size. (3RL 5RL 7RL 9RL 3RS 5RS 7RS 9RS 5M1 5M2). 7/ 2 colorful Aluminium Alloy tattoo grips(Random Color).
8/ 10 Different size 304 Stainless steel tattoo tips. Size RL3/5 RL7/9 RL11/14 M5 M7 M9 M11 M13 M15. 9/ 8 different size disposable Tattoo Grips. (3RT 5RT 7RT 9RT 5FT 7FT 9FT 11FT).
10/ 1 Tattoo kit case with lock and key. 11/ 100 Ink cup Mixed size (Large, Medium, Small). 12/ 1 ink Cup holder. 13/ 50 Tattoo-machine rubber bands.
16/ 1 Set tattoo tip cleaning brush (5pcs per set). 17/ 1 Set of tattoo machine gun adjust tools (3 different size). 18/ 1 Silica gel Practice skin, dual-sided & re-usable. 19/ 2 Pcs Disposable tattoo gloves.
20/ 1 set tattoo machine kit manual. We have taken needed steps to stops this. Kind buyers pls polish your eyes and do not be deceived! Pls note that the voltage should not exceed 12v when working!
Please note that delays caused by carriers, we can not be hold responsible for. Sometimes, shippig may be influced by holidays, events and other uncertainties. There is a 7 day grace period to pay. All buyers are welcome for business negotiation. If you are a tattoo artist, its no problem to use Solong Tattoo equipments.
But if you are a tattoo beginner, please pay attention to the following warning tips. Before starting to tattoo yourself or others, please read the Instruction Manual carefully, the Instruction Manual in Tattoo Kit could tell you how to star a tattoo. You can also check more teaching Videos on facebook or twitter. As a tattoo beginner, you should practice your design first on practice skins or on pears, apples, or something similar to human skin.
This practice is necessary to improve your tattoo skills. You should have enough tattoo skills before tattooing on human skin, tattoo on human skin is permanent. No matter which brand pigment you are willing to use, the Pigment Patch Test is necessary. Using soap & water or alcohol, clean small area of skin in inner forearm.
Apply small amount of pigment to the area and allow it to dry. After 24 hours, wash with soap & water. If no irritation or inflammation is apparent. It may be assumed no hypersensitivity to the pigment exists.
Please take in mind you should keep your body health before tattooing. A week body, such as drunk, catching a cold, or any other sickness, cant be done tattooing on body. It may result your body too week to recover your tattoo parts. And you should keep your body health after tattoo as well.
Normally, the tattoo skin may take 5-10 days recover. Please keep the skin dry during the recover. Bathing, drinking, strenuous exercise is prohibited.
If you have any trouble or confuse to use our products, please contact Solong Tattoo directly. The item "Solong Tattoo Complete Tattoo Kit 4 Machines Gun 54 Ink Power Set with Case TK456" is in sale since Thursday, July 2, 2020. This item is in the category "Health & Beauty\Tattoos & Body Art\Tattoo Complete Kits". The seller is "stigmatattoos" and is located in Yi Wu Zhejiang.
This item can be shipped to United States.
UPC: 701413860310
Brand: Solong Tattoo
MPN: TK456