Milwaukee 2988-22R M18 Fuel 3/8 & 1/2 Hi-Torque Impact Wrench Kit withGrease Gun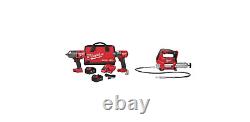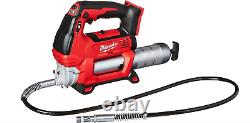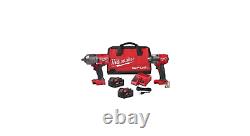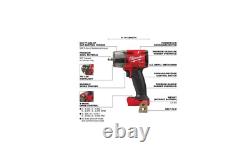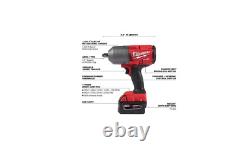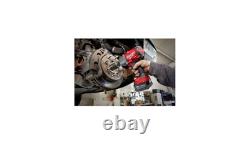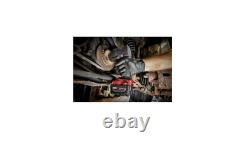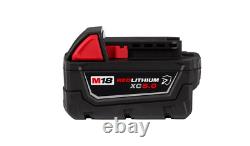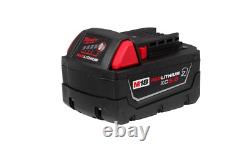 Milwaukee 2988-22R M18 Fuel 3/8" & 1/2" Hi-Torque Impact Wrench Kit w/Grease Gun Our Automotive Impact Wrench 2-Piece Kit includes an M18 FUELT 1/2 High Torque w/ Friction Ring that eliminates the need to use a pneumatic tool for stubborn and rusted bolts by delivering 1400 ft-lbs of nut-busting torque and 1,000 ft-lbs of fastening torque. With 2X faster removal speed, our users will be able to get the job done faster and be more productive throughout their day. By providing the industry's most compact cordless High Torque Impact Wrench at 8.39 in length, this tool allows for more access in tight spaces.
Our included M18 FUELT 3/8 Mid-Torque Impact Wrench w/ Friction Ring delivers the best power to weight ratio, most access in tight spaces, and faster removal speed. It provides 600 ft-lbs of nut-busting torque and only weighs 5.0 lbs, making it extremely versatile, capable of performing a wide variety of applications, such as removing large bolts or lug nuts. Our cordless impact wrench is the most compact in its class, giving our users access to stubborn fasteners in spaces where larger impact wrenches can't fit without needing to disassemble components to reach bolts.
Tri-LEDs surround the anvil to deliver brighter light with fewer shadows. Our M18 REDLITHIUMT XC5.0 Extended Capacity Resistant Battery Packs included provide increased protection against oils, greases, and solvents. Friction ring (hog ring) to ensures quick and easy socket changes High Torque Impact Wrench's POWERSTATET Brushless motor delivers up to 1,400 ft-lbs of nut-busting torque, while Mid-Torque Impact Wrench delivers up to 600 ft-lbs of nut-busting torque 4-Mode DRIVE CONTROLT offers greater precision with a range of pre-set RPM and IPM levels, selectable from a single button on tool Bolt Removal control delivers full torque output, then decreases RPMs once the bolt is loosened to prevent fastener drops Tri-LEDs on Mid-Torque Impact Wrench delivering high definition lighting to increase workspace visibility with less shadows Works in up to to 69kV environments Premium rubber overmolds withstand corrosive materials and provides increased comfort when in use Mid-Torque Impact Wrench measures just 6.0" in length provides most access in tight spaces Mid-Torque Impact Wrench is up to 3lbs lighter than high torque impact wrenches AUTO SHUT-OFFT control on Mid-Torque Impact Wrench applies no more than 35 ft-lbs of torque for hand-tight fastening applications to prevent overtightening REDLINK PLUST Intelligence ensures maximum performance and protects from overloads, heating and over-discharge Compatible with all M18T batteries & Chargers Includes: (1) M18 FUELT 1/2" High Torque Impact Wrench with Friction Ring (Tool Only)(2767-20) (1) M18 FUELT 3/8 Mid-Torque Impact Wrench w/ Friction Ring(2960-20) (2) M18T REDLITHIUMT XC5.0 Resistant Battery(48-11-1850R) (1) M18T & M12T Multi-Voltage Charger(48-59-1812) (1) Contractor Bag Description for 2646-20: The M18 Cordless 2-Speed Grease Gun delivers maximum pressure and unmatched versatility, offering an industry leading 10,000 PSI max operating pressure and a patent pending pre-set grease counter that allows service and maintenance professionals to dispense precise amounts of grease. The tool's 2-speed design offers users the ability to select between max pressure and max flow rate. Other unique features include an on-board LED light, a lock-on/lock-off trigger, and a plunger rod with markings to gauge how much grease is left in the barrel.
The tool's stand up design and shoulder strap capability offer user convenience, while limiting fatigue and the 48 flexible hose offers greater accessibility when greasing hard to reach fittings. The new tool is also compatible with a clear barrel accessory (49-16-2646). Powered by an M18 REDLITHIUM Battery pack, this is the industry's only 18V grease gun that's battery is compatible with a system of tools.
Industry leading 10,000 PSI max operating pressure Industry leading max flow-rate of up to 10 oz. / minute New to world precision through Pre-Set grease counter lbs 48 flexible hose offers greater access to difficult to reach fittings Air bleeder valve: priming mechanism for quick flow M18 REDLITHIUM system: compatible with over 175+ M18 Lithium-Ion solutions for greater versatility in the workplace Lock-on/lock-off trigger delivers added user convenience Includes: (1) 2646-20 M18 2-speed grease gun (1) 48 in.
Flex hose with spring guard, (1) high pressure grease coupler Compatible with all M18 batteries Up to 10 Grease Cartridges per Charge Uses 14.5oz Cartridges or Bulk Load Charger is 120 Volts only and we do not sell 220 volt chargers.