G&G CM16 Fire Hawk M4 Stubby CQB AEG Airsoft Gun Firehawk kit / cqb bundle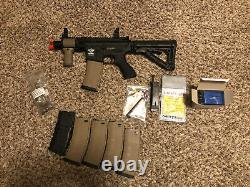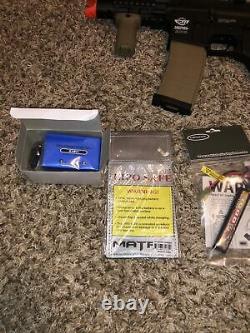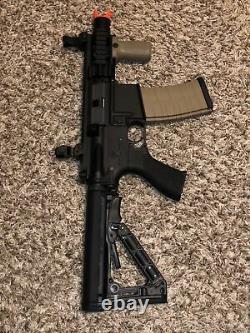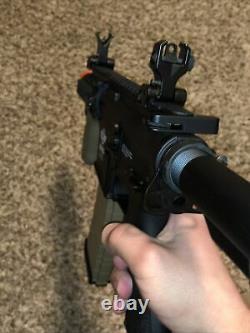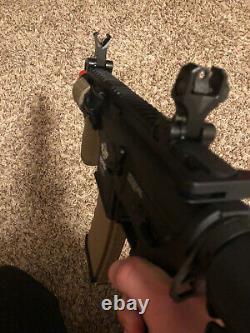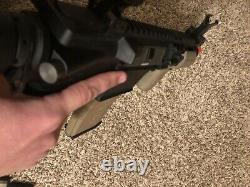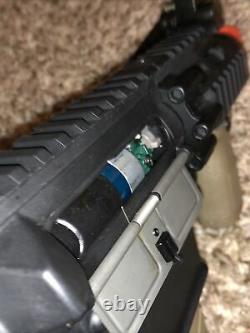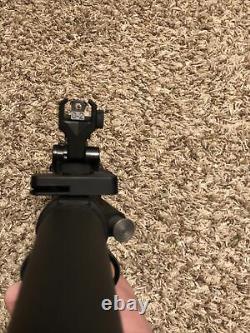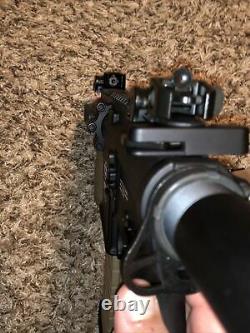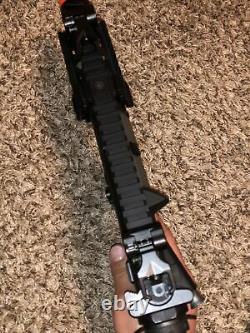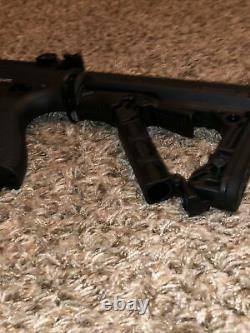 G&G CM16 Fire Hawk M4 Stubby CQB AEG Airsoft Gun High Speed Setup - Black. GREAT DEAL- this gun is very popular and is out of stock at most major retailers, including evike. This bundle is great for beginners as the g&g combat machine is the best beginner airsoft gun made. This is a factory uptuned cqb version (which is lipo ready out of box) of the cm16 combat machine series guns- you will not be disappointed choosing this as a first gun or as a dedicated cqb aeg. Pristine - new out of box with attachments added.
Amazing for cqb with the light but realistic weight, very high rounds per second out of box, and an extremely compact size. Made of very durable polymer which makes it a good cqb gun/ run and gun or speedsoft playstyle gun.
Has flip up magpul style sights, a magpul ctr style stock, a magpul esque pistol grip, and quad rails. Plus the attached magpul pts grip. Never fired or modified in any other ways. NEVER USED, FIELDED, OR SHOT ONCE BY ME AS I NEVER CHARGED AND PUT THE LIPO BATTERY INTO THE GUN AND THEN FIRED IT MYSELF.
Unused; out of box new. As I didnt use or alter this gun, it is fully functional as bought and quality control tested from evike within the last year. All new oob / out of box and never used.
This gun is lipo ready and can accept 7.4 v and I believe? Even 11.1 volt (forgive me if i got the voltage names wrong, havent been into airsoft in a long time) lipo batteries are able to be used in this gun, but be sure to read up before attempting this; dont take my word for it.
Comes with loaded 300 rd g&g hi cap of. 25 g&g bbs and 5 quality g & g black and tan 120? Rd magpul style midcaps loaded with the same. Comes with a couple speed loaders.
In essence, youre getting about 1000. 25 rounds when you get this kit. As i said, taken out of og box, but never once fired or used. It has flip up sights, the top grade g and g green hop up bucking, a hidden storage compartment in the stock, a 3 position magpul CTR style AR15 stock on a buffer tube allowing you to attach any stock youd like onto it, tamiya battery wiring within the buffer tube, a functioning charging handle, and a magpul esque pistol grip. The rate of fire depends on what battery you use, but this gun mostly accepts small batteries (7.4 lipo), It shoots 320-330 fps very consistently, and has a V2 gearbox ; anywhere from 20 -17? Rounds per second ish with a 7.4 v lipo or 25+ rounds per minute with an 11.1 v lipo.
Very high performance for such a small and affordable gun. Endlessly reliable G&G top tech gearbox performance in a full metal combat machine gearbox shell. Great cqb gun set up for starters.
As I said, I have never shot this, but I have heard others say on airsoft forums that the muzzle brakes shape on this gun makes the gun report like a 22 magnum round; it apparently is one of the loudest cqb guns around in airsoft about at the sound level of or louder than the deafening kwa mp9 and m11. Very fast firing and well performing (lipo ready as well) gun for the price tag. From what Ive read, I believe this would shoot accurately out to 100 feet to 150 even with the short barrel due to the insane hop up. Also has very nice and aesthetic magpul mbus style flip up sights with two distance adjustments and the proper ar style elevation and windage adjustment capabilities. A bundle great as a christmas gift. Or, as a set to start airsofting in cqb arenas as things open up more. And warm weather is eventually approaching for outdoor play with the gun at outdoor arenas as well. Bar none amazing beginner bundle for cqb although this gun is very fieldable for outdoor as well. Save hundreds on prohibitive airsoft start up costs with this listing. Send an offer , price negotiable.
The item "G&G CM16 Fire Hawk M4 Stubby CQB AEG Airsoft Gun Firehawk kit / cqb bundle" is in sale since Thursday, December 17, 2020. This item is in the category "Sporting Goods\Outdoor Sports\Airsoft\Guns\Electric\Rifle".
The seller is "thewhat24712" and is located in Grafton, Wisconsin. This item can be shipped to United States.
Brand: G&G
Custom Bundle: Yes
Model: CM16 Firehawk (High Speed Setup)
Modified Item: Yes
Featured Refinements: m4 mk18 airsoft
Country/Region of Manufacture: Taiwan
MPN: EGC-16P-FHK-BNB-NCM
Features: aeg