Tufting Gun Kit, 2 in 1 Loop Pile Cut Pile Rug Tufting Kit, Rug Gun Machine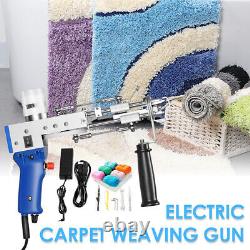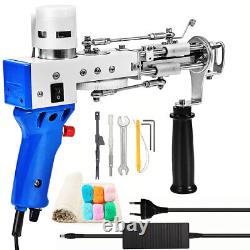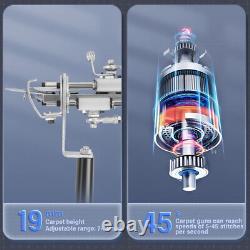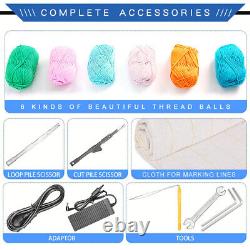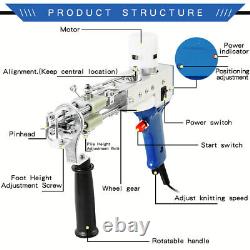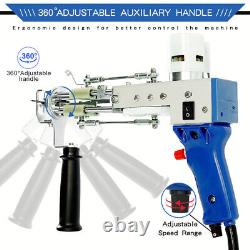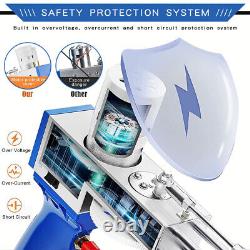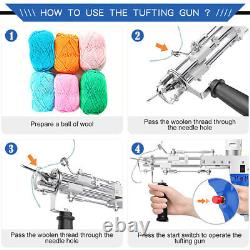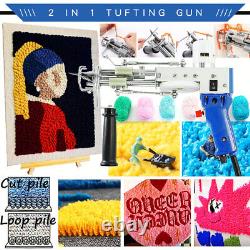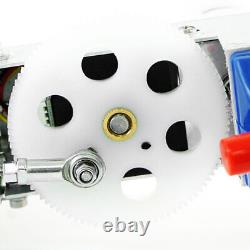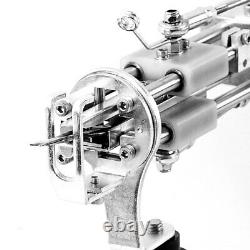 This rug machine gun can reach a speed of 5-40stitches per second, a no-load speed of 10000r/min, and an increase in work efficiency of 80-100times. Whether you are a beginner or a professional, the adjustable speed cut pile tufting gun will help you to make your carpets quickly and easily. This cut and pile tufting gun kit is equipped with a 360°adjustable auxiliary handle, which can provide maximum comfort and flexibility when in use. And it only weighs 3 lbs and can be used for a long time without fatigue. All the rug tufting machine are strictly tested and built-in over-voltage, over-current and short- circuit protection system.
Make sure the switch has been turned on before pressing the black button, and then you can use it with confidence. Tufting Gun 2 In 1. Tufting gun has "cut pile" and "loop pile " functions:?
The cut pile gun create a more compact finish on the rug side, the cut pile produces a shaggier look. Just simply remove the scissor head, the tufting gun can easily switch from cut pile to loop pile mode.
The carpet tufting gun can be adjusted to the speed and pile head height as you like, which is easy to operate and master. The simple operation mode can reduce troublesome and help beginners to weave various fancy patterns easily. The tufting gun cut pile has good durability, which can help to make kinds of great artworks and practical carpet. You can easily DIY your own exquisite work. Lt is the best choice for decorating your own space and sending friends.
2-In 1 Tufting Gun, Rug Maker Carpet Gun for Rug Making, Beginners. Rug tufting is a unique art in that you can create enormous works with relatively few materials. Another great thing about it is that it's quite easy to learn and extremely versatile. Even you are a new hand. This tufting gun can operate both Cut Pile and Loop Pile compared to other tufting guns which cannot.
Cut pile and loop pile will allow for making different rug styles. And it also comes with a dial that adjusts the speed of the gun, which let it's more friendly to new users. Compare with common tufting gun. 9.1inD x 12.2inW x 2.4inH. After plugging in the power, do not press the black button before turning on the switch, otherwise it may be damaged. Since there is still current on the circuit board at this time, pressing the black pin button will damage the power capacitor on the circuit board.
Make sure to turn on the power switch before pressing the black button. Never loosen or adjust the bolts underneath. This will cause the scissors to not work. When operating the tufting gun, keep it in the correct direction, the wrong direction will cause tufting failure.
Always keep the tufting gun closed when threading. It is best to unplug the machine to avoid accidental startup. Be careful when adjusting the lint cutter. Incorrect adjustment of the machine will cause the scissors to not work.
If the lint height is adjusted too high, the scissors will not work properly. Please follow the online video guide to make appropriate adjustments. We are always happy to give assistance. We will get back to you within 24 hours. We wish to hear from you! Your satisfaction is our motivation. Most packets can be tracked. This item is in the category "Crafts\Needlecrafts & Yarn\Rug Making\Other Rug Making Supplies". The seller is "prince-wholesaler" and is located in this country: US. This item can be shipped to United States.
Brand: EVARGC
Model: Tufting Gun
Voltage: 100V-240V
Height Setting: 7-19mm
Cut Or Loop: Both
Power: 70w
Material: Aluminum
Power Source: Electric
Size: 9.1inD x 12.2inW x 2.4inH
Freqency: 50-60hz
Weight: 1.5KG
Speed: 5-40Needle/s,10000r/min