Gatsby Pen Kit Chrome 24 kt Gold Gunmetal Wood Woodturning Fast Shipping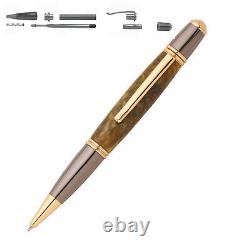 Quality that you have grown to expect, at a price you can afford. Gatsby Pen KIT or pen bushing set.
Select the finish, quantity, or bushings from the menu above. You have the option of a single pen kit in chrome, 24k gold, gold & gunmetal, or chrome and gun metal, OR you can choose packs of 5 or 10. At even more discounted prices.
Requires 27/64" drill bit, gatsby bushings, and 5/8" x 5 blank. No wood or finished pen included. NO WOOD COMES WITH THIS KIT. This is NOT a finished product.
Nothing else comes with this kit except what is listed above. Wecarry a great variety of woodturning products and tools for your turningpleasure. We have both chrome and stainless steel. We have standard and mini size in a variety of shapes. Bottle Stopper chucks, mandrels, and taps.
CA glues, finishes & polishes, debonder, activator, specialty tips and replacement caps. Project kits: pens, pepper mills, shaving razors, shavingrazor stands, shaving brushes, pizza cutters, deer grunt calls, seem rippers, bottle openers, bottle stoppers.
Pen making supplies: glues, finishes, kits, abrasives, bushings, mandrels, mandrel saver, non-stick bushings, polishes, boxes, blanks. Our goal is to save youmoney. Weship using the fastest and cheapest possible method. No wood or finishedproducts included.
We offer the highest quality items at the best prices! We carry so many great items!!