Milwaukee 2988-22R M18 FUEL Auto Kit 1/2 and 3/8 Impact Gun Wrench Kit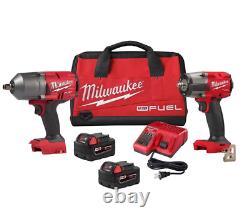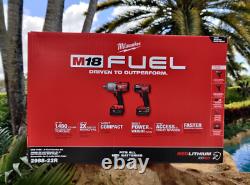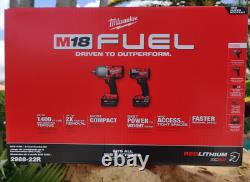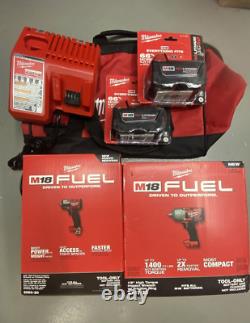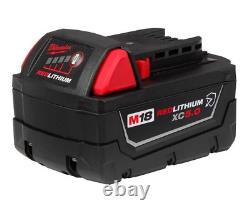 2767-20: Up to 1400 ft. 2767-20: Provides maximum productivity by removing stubborn and high torque fasteners up to 2X faster than the competition. 2960-20: Best power to weight ratio is offered as the tool provides 600 ft-lbs. Of nut-busting torque at only 5.0 lbs. With a 5.0Ah battery.
2960-20: 6.0 in length provides most access in tight spaces. 2960-20: Tri-LEDs deliver high definition lighting to increase workspace visibility with less shadows.
The M18 FUELT 1/2 High Torque Impact Wrench w/ Friction Ring eliminates the need to use a pneumatic tool for stubborn and rusted bolts by delivering 1400 ft-lbs of nut-busting torque and 1,000 ft-lbs of fastening torque. With 2X faster removal speed, users will be able to get the job done faster and be more productive throughout their day. By providing the industry's most compact cordless High Torque Impact Wrench at 8.39 in length, this tool allows for more access in tight spaces. 4-Mode DRIVE CONTROLT with Bolt Removal mode gives users the most control over their fasteners. Bolt Removal mode gives the user more control when removing fasteners by slowing RPMs once the fastener has been loosened. The M18 FUELT 3/8 Mid-Torque Impact Wrench w/ Friction Ring delivers the Best Power to Weight Ratio, Most Access in Tight Spaces, and Faster Removal Speed. It provides 600 ft-lbs of nut-busting torque while weighing only 5.0 lbs with a 5.0Ah battery, making it an extremely versatile tool, capable of performing a wide variety of applications. While up to 3lbs lighter than high torque impact wrenches, it's POWERSTATET Brushless motor generates the power needed to quickly perform many of the same tasks, such as removing large bolts or lug nuts.
This tool is the most compact in its class, allowing access to stubborn fasteners in spaces where larger impact wrenches can't fit. It increases productivity by eliminating the need to dissemble components while accessing hard-to-reach bolts. Tri-LEDs surround the anvil to deliver brighter light with less shadows.
4-Mode DRIVE CONTROLT offers greater precision with a range of pre-set RPM and IPM levels, selectable from a single button on tool. By selecting Mode 4, AUTO SHUT-OFFT control applies no more than 35 ft-lbs of torque for hand-tight fastening applications to prevent overtightening. Also, in Mode 4, Bolt Removal control delivers full torque output, then decreases RPMs once the bolt is loosened to prevent fastener drops.
REDLINK PLUST Intelligence electronics in both of these tools make these controls possible while ensuring maximum performance, protecting the tool against overloads, over-heating, and over-discharge. The M18T REDLITHIUMT battery pack fits M18T tools, delivering more work per charge and more work over the life of the pack.