Milwaukee 2572B-21 M12 12V Airsnake Drain Cleaning Air Gun Kit w\XC 4.0 Battery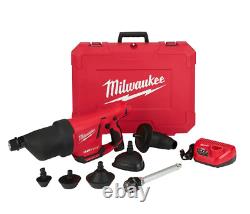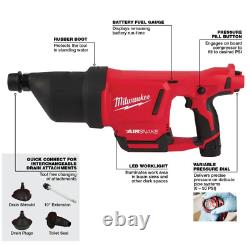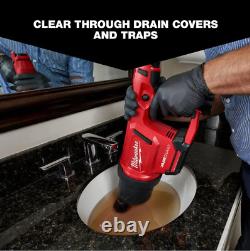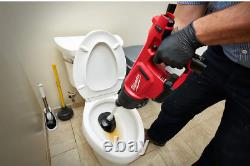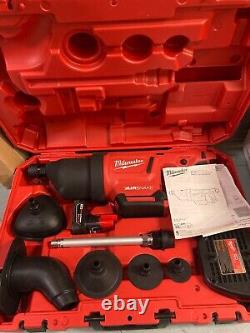 The MILWAUKEE M12 AIRSNAKE Drain Cleaning Air Gun Kit is the industry's only drain cleaning machine designed to clear through drain covers and traps with powered air. The cordless air gun enables users to clear clogged drains while leaving fixtures and drain covers intact. The tool is designed for 1 in. Drain lines and has the power to clear up to 35 ft. Past vent stacks and tees.
The drain cleaning air gun has a variable pressure dial providing users with complete control when working on delicate pipe systems. Powered air flushes water out of pipes, completely removing grease and sludge from pipe walls. Drain professionals, plumbers, and facility maintenance crews will be able to work faster when clearing clogs with the ability to work over sinks and eliminate retrieval mess. The M12 AIRSNAKE is powered by Milwaukee M12 REDLITHIUM battery packs, providing users with more work per charge and more work over pack life.
Built-in REDLINK Intelligence gives users optimized performance and overload protection against abusive situations. In addition to the air gun, this kit. Up to 50 PSI for tough clogs down the line. First Line of Defense: Power to clear clogs past vent stacks.
Instantly reach clogs 35 ft. Variable pressure control to select the right PSI for compression fittings and older drain lines. Clears clogs through drain covers and traps with powered air. Over 25 pressure cycles on a single charge. Interchangeable attachments optimized for seals on 1" - 4" drains, permanent drain stoppers, and toilets.
Removes Grease & Sludge Buildup from Pipe Walls: Best for Slow Drain and Grease Clogs. Part of the M12 System, Featuring over 125 tools.
Compatible with all M12 batteries and chargers. Includes: (1) M12 AIRSNAKE drain cleaning air gun, (1) M12 REDLITHIUM XC 4.0 battery, (1) M12 Lithium-ion battery charger, (1) 1 in. Drain plug, (1) 2 in. Drain plug, (1) 3 in.
Drain plug, (1) drain shroud attachment, (3) straight connectors, (1) 15 degree offset connector, (1) toilet seal attachment, (1) 10 in. Extension and (1) carrying case.