5 Piece Nail Gun Kit Integrated Drive Blade Durability Lightweight Convenient US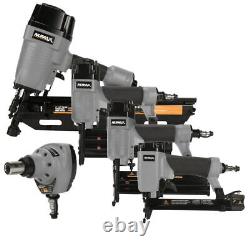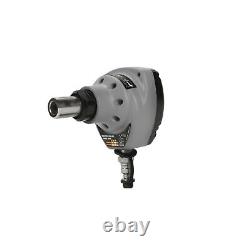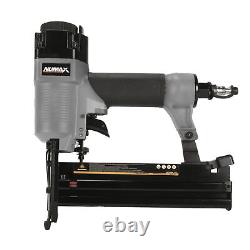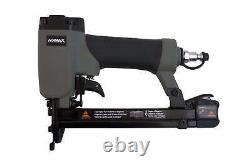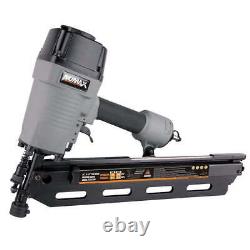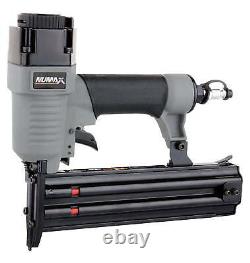 The ideal collection of pneumatic nail guns and staplers to get things done around your house or job site. This comprehensive assortment of air compressor tools includes a 21-Degree 3-1/2-inch Full Round Head Framing Nailer (SRF2190), 18-Gauge 2-inch Brad Nailer (SBR50), 18-Gauge 1-5/8-inch Narrow Crown Stapler (SST9040), 20-Gauge 9/16-inch Fine Wire Stapler (SFWS) and Mini Palm Nailer (SMPN). It is a must-have for DIY home improvement and repair projects as well as professional construction jobs due to the wide array of projects it can handle. This rugged nail gun features a one-piece drive blade for increased durability and a lightweight magnesium body designed for extended use. The reload indicator and convenient strip loading magazine will have you flying through jobs without skipping a beat.
To adjust the driving depth of the fasteners on this extremely versatile staple gun, simply turn the adjustment wheel. The no mar safety tip eliminates damage to working surfaces, making it an excellent choice for quality finish work. This handy selection of pneumatic tools comes with 21-degree 3inch plastic-collated full round head framing nails (50 pieces), 18-gauge 1-1/2-inch brad nails (200 pieces), 18-gauge 1-inch staples (200 pieces) and 20-gauge 3/8-inch fine wire staples (200 pieces). This essential kit has everything you need to tackle construction projects, finishing projects and even small crafts Covered.
Numax 5 Piece Framing and Finish Combo Nail Gun Kit. SFR210 ideal for bigger jobs such as framing, truss assembly, subfloors, fencing, and deck work Compatible with generic 10-12-gauge plastic-collated 21-degree round head framing nails (2 inches to 3-1/2 inches) SBR50 perfect for base moulding, crown moulding, door and window installation, chair rails, and more Compatible with generic 18-gauge brad nails (3/8 inch to 2 inches) SST9040 made for projects including cabinetry, trim work, moulding, panelling, hobbies, and crafts Compatible with generic 18-gauge staples (1/2 inch to 1-5/8 inches) SFWS excellent for upholstery, screening, insulation, and small craft work Compatible with generic 20-gauge fine wire and Arrow® T50® staples (1/4 inch to 9/16 inch) Mini Palm Nailer great for nailing with one hand into tight spaces or awkward positions.