Milwaukee 2988-22R M18 Fuel 3/8 & 1/2 Hi-Torque Impact Wrench Kit withGrease Gun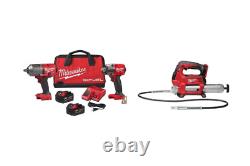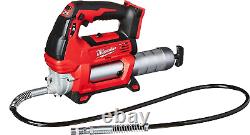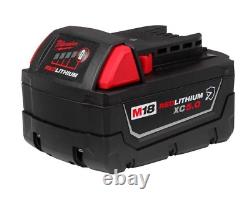 Our Automotive Impact Wrench 2-Piece Kit includes an M18 FUELT 1/2 High Torque w/ Friction Ring that eliminates the need to use a pneumatic tool for stubborn and rusted bolts by delivering 1400 ft-lbs of nut-busting torque and 1,000 ft-lbs of fastening torque. With 2X faster removal speed, our users will be able to get the job done faster and be more productive throughout their day. By providing the industry's most compact cordless High Torque Impact Wrench at 8.39 in length, this tool allows for more access in tight spaces. Our included M18 FUELT 3/8 Mid-Torque Impact Wrench w/ Friction Ring delivers the best power to weight ratio, most access in tight spaces, and faster removal speed. It provides 600 ft-lbs of nut-busting torque and only weighs 5.0 lbs, making it extremely versatile, capable of performing a wide variety of applications, such as removing large bolts or lug nuts.
Our cordless impact wrench is the most compact in its class, giving our users access to stubborn fasteners in spaces where larger impact wrenches can't fit without needing to disassemble components to reach bolts.