Chemical Guys Car Wash Kit 14 pcs TORQ Blaster Foam Gun & Buck / 5 Bottles 16oz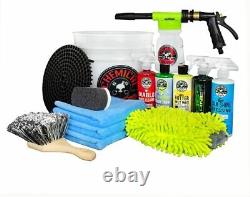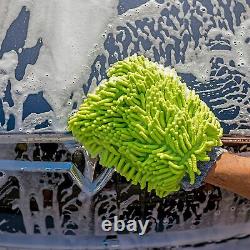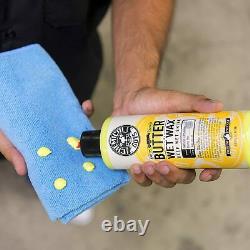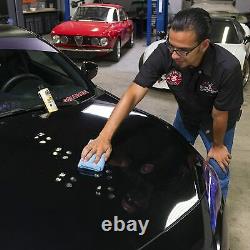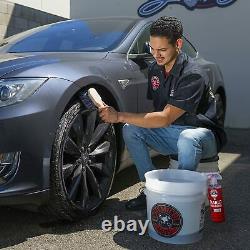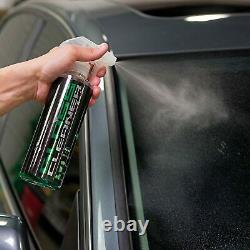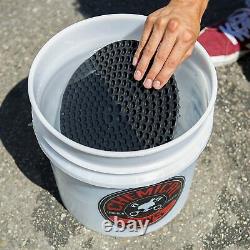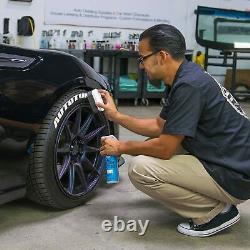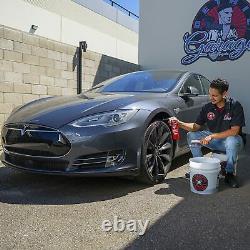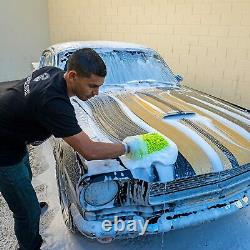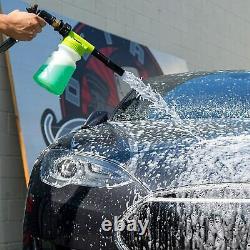 Makes a Great Gift: This Kit Is the Ultimate Collection of Car Wash Supplies, and Is the Gift That Keeps on Giving for Any Car Buff, Truck Enthusiast or Classic Car Fan. It Contains Everything Needed to Clean and Maintain a Beautiful Shine on Any Car or Truck. Foamy Fun: If You Love Cars, Then a Clean Car Brings You Nothing but Happiness.
This Kit Not Only Has Everything You Need to Keep the Exterior of Your Car Looking Great, but It Also Has the Tools to Make Cleaning Your Car Fast, Easy and Fun for the Entire Family. The Foam Gun Hooks up to Any Standard Hose, so There Are No Additional Tools or Machines Required to Produce Foamy Cleaning FunFoamy Fun: If You Love Cars, Then a Clean Car Brings You Nothing but Happiness.
The Foam Gun Hooks up to Any Standard Hose, so There Are No Additional Tools or Machines Required to Produce Foamy Cleaning Fun. Here Are the Great Products Included.
Butter Wet Wax, Honeydew Snow Foam, Diablo Wheel Gel (Ready to Use), Silk Shine Dressing, Signature Glass Cleaner, Detailing Bucket, Cyclone Dirt Trap (color may vary), Torq Foam Blaster Foam Gun , Microfiber Wash Mitt (color may vary), Short Handle Brush, 3 Microfiber Towels (color may vary) & a dressing applicator (color may vary). The Kits Contents Are Products That Are Among the Best Sellers in Their Categories. Note: applicator, color may vary.
Towel color and size may vary. All towels will be at least 16" x 16". Heavy Duty Detailing Bucket (4.5 Gal). The rugged construction thick enough for ultimate durability.
The compact tapered design stacks easily and stores with a small footprint, saving you valuable garage space. The internal dimensions are tailored to fit the included Dirt Trap for the perfect scratch-free wash.
Foam Blaster 6 Foam Wash Gun. Car wash foam is one of the professionals secrets to a scratch-free car wash. The TORQ Foam Blaster Foam Gun turns a car wash into a foam bubble bath for your car. Bathing a car with slick car wash foam removes abrasive dirt particles gently and without grinding them into paintwork.
Over 95% of swirls and scratches come from improper car washing and drying techniques and products. Adding slick car wash foam to the equation drastically reduces the risk of installing swirls and scratches on painted surfaces. Cyclone Dirt Trap Car Wash Bucket Insert. The Dirt Trap bucket insert eliminates wash swirls and scratches with Cyclone Dirt-Trap Technology. Dirt Trap Cyclones funnel and separate dirt away from wash water. The Dirt Trap car wash guard uses nearly 300 cyclonic funnels to separate abrasive dirt and debris away from car wash water. Less dirt in the mitt means less sandpaper action that causes swirls and scratches. Choose the Dirt Trap to protect your cars beautiful shine for years to come. Honeydew Car Wash Soap (16 oz).
Honeydew Snow Foam is the first auto shampoo specifically designed to create copious amounts of cleaning suds in a foam cannon or foam gun. The new Honeydew Snow Foam is thicker, slicker, and more gentle than ever before. Powerful hyper surfactants cut through dirt and grime, lift them from sensitive automotive paintwork with billions of scrubbing bubbles, then safely lubricate and guide them off the paint for a scratch-free wash. The pH-neutral formula is gentle on wax coatings, and safe to use in direct sunlight for a spot-free wash.
Butter Wet Wax (16 oz). Butter Wet Wax is the worlds easiest wax to use and now its even better with an all new improved formula. Butter Wet Wax can be applied by hand or machine and can also be applied in direct sunlight.
Chemical Guys Butter Wet Wax works brilliantly with all types of paint (Metallic, solid color, Ceramic & Clear coated). Since its easy on easy off, it shortens work time and produces a streak/resin free shine in a matter of minutes! Butter Wet Wax can even be applied while the paintwork is wet directly after a wash. Diablo Gel Wheel & Rim Cleaner (Ready to Use) (16 oz).
Chemical Guys Diablo Wheel & Rim Cleaner is pH-balanced, gentle, and perfect for cleaning any type of shiny wheel finish on any vehicle. Clean off any painted wheel, polished metal, chrome, anodized, powdercoated, or wrapped wheel without fear of tarnishing or destroying any finish in any way. The gentle formula is safe to use around any other car part, including exterior paintwork, glass, clear plastics, and undercarriage parts like fender liners and suspension components.
Simply rinse off any overspray without any fear of etching or staining any other car parts. Clean any car, truck motorcycle, RV, or SUV wheels, rims, and tires with Chemical Guys Diablo Wheel & Rim Cleaner. Silk Shine Sprayable Dressing (16 oz).
Restore a like-new look with a satin shine finish with Silk Shine Sprayable Dressing. Old school cars had shiny vinyl, rubber, and plastic that looked wet and bright.
Modern cars have matte and satin finishes on dashboards, door panels, interior upholstery, bumper plastics, door mirrors, engine covers, and even undercarriage parts and tires. Chemical Guys Silk Shine Sprayable Dressing restores this original OEM look without any extra greasy bright wet shine. Spray Silk Shine into a foam or microfiber applicator pad, then work into any vinyl, rubber, or plastic trim piece inside, or outside the vehicle. The water-based formula finishes dry to the touch, and will not leave any parts feeling greasy or sticky.
Chenille Microfiber Premium Scratch-Free Wash Mitt. The Chemical Guys Chenille Microfiber Premium Scratch-Free Wash Mitt is extra plush and fluffy, and holds tons of suds to make any car wash a fun and safe experience. Microfiber is the best car washing material because it is extra soft, extra absorbent, and helps protect against swirls and scratches. The plush microfiber noodles of the Chenille Microfiber Wash Mitt absorb clean wash water and fresh car wash soap, and put it down on filthy paint where theyre needed most.
Clean off abrasive dirt, grit, and grime without scratching or swirling paint, glass, metal, or optical plastic on any vehicle. Signature Series Glass Cleaner (16 oz). Use Chemical Guys Signature Series Glass Cleaner to finish every car wash or full detail with perfectly-clear glass. Windshields, mirrors, and side windows should be perfectly clear.
There is nothing more annoying than fingerprints, smudges, or spots on glass and windows. Not only is it distracting while you drive, everybody has to point it out and tell you that you missed a spot! The professional grade Signature Series Glass Cleaner contains no noxious chemicals, no ammonia, and will not leave streaks, spots, or stains on glass or sensitive optical plastics. The versatile formula is safe for use on window tint, navigation screens, and plastic instrument gauge clusters.
3 Pack - Workhorse Blue Professional Grade Microfiber Towel, 16" x 16". This premium towel is made with super soft 70/30 blend microfiber for scratch-free wiping.
This 70/30 blend stays soft through dozens of wash and dry cycles, and resists scratches and swirls on all automotive surfaces. The plush square towel easily folds into fours for efficient use of every inch of the cloth. The ultra-absorbent towels trap liquids and solids like dirt and dust deep inside the fibers and away from paint or glass for superior results. Easy Grip Soft Hex-Logic Applicator Pad, White.
The Easy Grip Applicator Pad combines a comfortable base handle with soft Hex Logic foam to spread the perfect coat of any tire shine, dressing, or plastic protectant. The soft applicator pad easily cleans and spreads a thin, even coat of any Chemical Guys premium protectant dressing on rubber tires, plastic bumper panels, engine bay components, or trim found all around any vehicle. Body & Wheel Flagged Tip Short Handle Brush. The Soft Touch Body & Wheel Brush is great for powerful cleaning on custom wheels, sensitive paintwork, engine bays, and lower body panels.
The soft synthetic bristles are split for a soft touch on sensitive wheels and rims, and easily removes tough dirt, debris, and brake dust. Easily scrub away brake dust, dirt, road grime, oil, grease, and more. Clean chrome, polished, painted, powdercoated, and wrapped OEM and custom wheels with a scratch-free shine. The item "Chemical Guys Car Wash Kit 14 pcs TORQ Blaster Foam Gun & Buck / 5 Bottles 16oz" is in sale since Thursday, October 15, 2020. This item is in the category "eBay Motors\Automotive Tools & Supplies\Automotive Care & Detailing\Wash, Wax & Cleaning Kits".
The seller is "jjordanbus-78" and is located in MA. This item can be shipped to United States.
Type: Car Wash Kit
Manufacturer Part Number: Does Not Apply
Brand: Chemical Guys