Ballistol Multi Purpose Oil-Lubricant Gun Cleaner Kit-16oz, 1.5oz & wipes-120076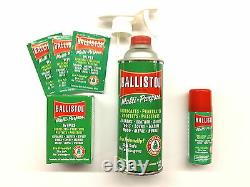 It is brand new as shown. We also have these available in 1.5oz aerosol cans, 6oz aerosol cans, and 4oz liquid cans and 16oz cans with spray trigger. This product has so many uses its hard to describe its flexible functionality. It will take 1-2 days longer because it will be a surface only ORM-D mailing. Ballistol has 1,001 USES. One of the most astonishing features of Ballistol is its versatility. There are other products on the market, but none have the same wide range of applications and capabilities as Ballistol. Ballistol can be used to lubricate, penetrate, clean, protect, and preserve firearms, leather, knives, marine equipment, fishing gear, tools, locks, wood, metal, rubber, and so much more. Keeps firearms protected lock, stock and barrel.
Ballistol cleans and removes all types of bore fouling. Cleaning with Ballistol will save you time, minimize the need for brushing, and also form a protective film on your firearm. Due to its slight alkalinity, Ballistol neutralizes and dissolves black powder and corrosive ammo residue. In addition, Ballistol will beautify gunstocks, and prevent them from drying out. As a lubricant, Ballistol will never gum up or harden.
With Ballistol, your entire firearm will stay lubricated and protected. Itll help save your hide. Leather that is frequently exposed to moisture or high humidity will become hard and brittle if not treated correctly.
Ballistol will keep all smooth leather soft, and will effectively protect leather against the effects of water, insects and mold. Use Ballistol on boots, shoes, gloves, holsters, slings, saddles, baseball gloves and other leather products. Your handyman in a can. Ballistol lubricates anything that squeaks or binds, including locks, hinges, sliding doors, windows, fans, moving parts in AC units, faucets, gardening tools and more.
In addition, Ballistol maintains, protects, preserves and rejuvenates unpainted wooden surfaces. It regenerates natural wood and brings out the wood grain, and helps antique furniture and old, dry, dull wood regain its natural silky glow. Ballistol also protects wood against damage resulting from humidity and insects.
The right tool for the job. Ballistol lubricates, penetrates, cleans, protects and preserves metal, plastic, rubber and wood.
Ballistol is an outstanding penetrating oil, creeps into the finest cracks, and loosens nuts and bolts. It can also be used as a cutting/boring oil. The perfect oil, no matter where you are. Ballistol can be used in motor compartments, as well as on joints, links, wire pulls and around battery terminals.
It also protects electrical contacts, beautifies faded gel coats and lubricates zippers, push buttons and winches. Ballistol is great for fishing rods, reels and tackle. In addition, it lubricates autos, motorcycles, bicycles, rollerblades, skateboards, and ski and sports equipment.
Ballistol protects all camping gear. THE WORLDS MOST USEFUL AND ENVIRONMENTALLY FRIENDLY LUBRICANT SINCE 1904. For more than a hundred years, consumers have trusted Ballistol to lubricate, penetrate, clean, protect, and preserve their firearms, leather gear, wood, metal surfaces, and more. With an astonishingly wide range of applications, this environmentally friendly multi-purpose oil has become an essential tool for shooters, hunters, fishermen, and handymen all over the world. OUR MISSION: DEVELOP AN OIL THAT CAN BE USED ON EVERYTHING. At the turn of the 20th century, the German Imperial Army began looking for a multipurpose oil that could be used to clean and maintain the metallic parts of a rifle, while also protecting its wooden stock and a soldiers leather gear. To develop this oil, the Army contracted with Friedrich Klever and his son Dr. Helmut Klever, a professor of chemistry at the Technical University of Karlsruhe. Helmut Klever succeeded in producing the special compound, which he named Ballistol (from the words ballistic and oleum, the Latin word for oil).
It soon became obvious that this new ballistic oil had truly amazing capabilities, and in 1905 the Imperial Army tested and adopted Ballistol, which stayed in use until 1945. By then, however, word had spread and within a decade, hunters, boaters, hikers, and outdoorsmen in Germany, Austria and Switzerland had converted to using this new miracle oil. THE CAN ISNT THE ONLY THING THATS GREEN. Ballistol cares about our planet, and we are committed to producing an environmentally friendly product. With Ballistol, you will lubricate, penetrate, clean, protect, and preserve your equipment without contaminating the environment.
Ballistol is biodegradable, and neither its use nor its disposal will pollute our air or water. Its natural decomposition will not produce byproducts that are harmful to the environment.
The aerosol propellant is a propane/butane blend that does not contain CFCs. In addition, Ballistol is non-carcinogenic and skin safe. After over 40 years of exemplary service in the Statesville and Concord areas, Heintz Brothers now looks to extend our great customer service to the global online sales market, through the online division of Heintz Sales. The Heintz commitment is to delivering a quality product and service to our customers in a timely manner.
Our parts are direct from over 250 manufacturers with our online presence growing daily as we upload new parts to our online sales platforms. Please contact Heintz Sales with any questions about your order and thank you for your support of small businesses like ours! The item "Ballistol Multi Purpose Oil-Lubricant Gun Cleaner Kit-16oz, 1.5oz & wipes-120076" is in sale since Thursday, August 27, 2015. This item is in the category "Sporting Goods\Hunting\Gun Smithing & Maintenance\Cleaning Supplies".
The seller is "heintzbrosauto1" and is located in Statesville, North Carolina. This item can be shipped to United States.
MPN: 120076
Brand: Ballistol