3M Accuspray ONE Auto Paint Spray Gun System Kit with Standard PPS 16580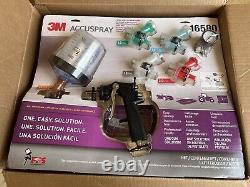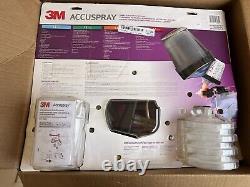 This 3M Accuspray ONE Spray Gun System with PPS is extremely lightweight and easy to handle thanks to its molded composite construction. It's also incredibly durable, making it ideal for shop use and heavy use in commercial settings. Best of all, it's manufactured to offer professional-grade accuracy and evenness, making it a standalone option for unparalleled finishing projects.
The 3M Accuspray 16580 eliminates the need for spray gun maintenance kits and is superbly easy to clean. In addition, each of the four included atomizing heads are transparent to ensure the 3M spray gun is clean before you pull the trigger.
No more muddled colors or accidental color discharge! A gravity-assist feature in this 3M paint gun also means you can spray in any direction, making it possible to apply the perfect finish to the hard-to-reach areas and in spaces that are cramped and confined.
The result is a finish that's complete, even to the most incredulous eye. This system comes with 4 different atomizing heads, which serve to make the 3M Accuspray Gun a complete solution for painting both basecoats and clear coats. 1.8mm: Ideal for use across most general applications, from primer to sprayable adhesives and beyond, in both auto and marine capacities. 1.4mm: Optimal for finer finishes, including single-stage and clear coat automotive applications, as well as marine topcoats. 1.3 and 1.2mm: Perfect for ultra-fine finishes, these atomizing heads feature extra air holes that serve to evenly distribute finishes to a pristine, professional-grade caliber.
The Paint Preparation System (PPS) makes using this 3M spray gun simple, clean and efficient. Everything you need to paint is self-contained within the PPS& system can mix, measure and filter all in one. The PPS system hooks right into the 3M Accuspray ONE Spray Gun System for instant painting action. And, when you're done, simply remove the lid, liner and plug, dispose of them appropriately and start over with your next finish!
(1) Accuspray ONE Spray Gun with color indicator rings. (4) Accuspray atomizing heads in sizes 1.2, 1.3, 1.4 and 1.8mm. (5) liners and lids - (1) w/ 125 micron filter, (4) w/ 200 micron filter. (1) standard size 22oz PPS hard cup and (1) retaining ring.