SOLDERING IRON, BLOW TORCH, FLAMELESS HEAT GUN KIT, 7mm Tip SolderPro 180K Iroda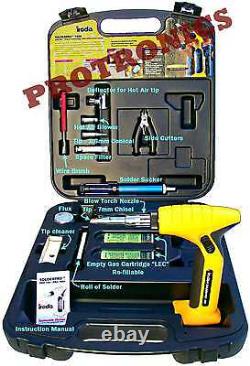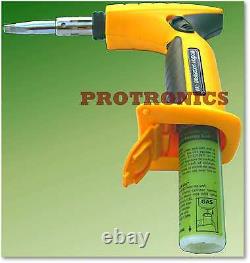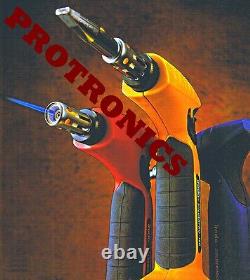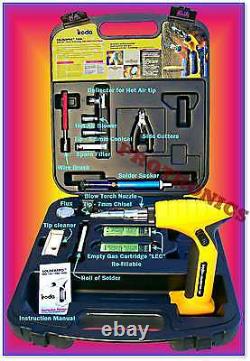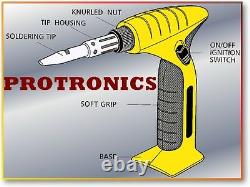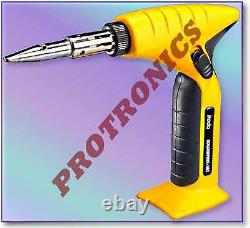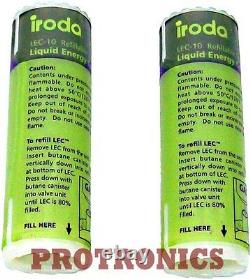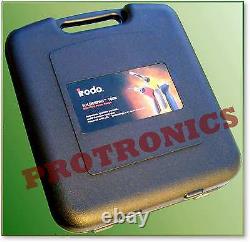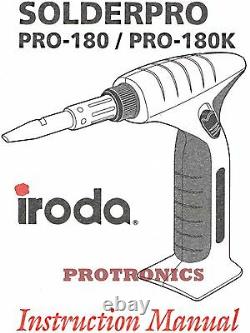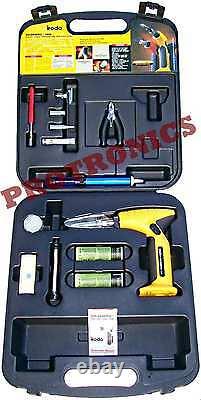 IRODA GAS SOLDERING IRON KIT - 185W (SolderPro 180K). Professional Butane Soldering Iron, Flameless Heat Gun & Blow Torch Kit.
For Spare - SOLDERING TIP. Forget those awkward extension leads.
The SolderPro180 is the new generation in cordless, gas, Soldering Irons manufactured by a world leader in butane gas power technology. This is the ultimate heating tool for Technicians, Electrical Contractors & Auto Electricians. By simply removing the tip, the SolderPro 180 instantly turns into a whopping 1300°C blow torch.
Incredibly easy to use with its simple ignition and gas adjustment. It is powered by a unique, refillable Liquid Energy Cell (LEC) system.
Each liquid energy cell or cartridge lasts 1.5 hours (on mid flame setting). No need to carry a can of gas when out on the job any more. Just put a spare cartridge in your pocket and you're under way! It took me only 8 seconds to swap the refill.
(with a spare one from my top pocke)! Thus the job remains hot during gas refilling.
Extra refillable Liquid Energy Cells are available on request. Two of them are supplied with this kit. How easy can you get! 185W of power generates soldering temperatures up to 550°C.
Simply remove the tip and it becomes a 1300°C Blow Torch for the toughest brazing and heat shrinking jobs! This is a very powerful unit - unlike smaller units, it will solder 6mm/8mm wire. Auto electricians use this iron for soldering alternator cables and starter brushes. We have even used it to solder heavy duty jumper leads. Smaller irons just lack the power for these tasks. Supplied with two refillable gas cartridges, which last over 1.5 hours on middle setting. The included spare cartridge can be pre-filled and be in your pocket ready to change over instantly the initial cartridge is exhausted.
This enables long use times between refills from a can. Soft touch grip, free standing, single handed controls, angled head.
Ready to use 30 seconds after ignition. Huge 7 mm wide tip. Retains sufficient heat for soldering heavy items.
Powered by a unique refillable Liquid Energy Cell (LEC) system. Housed in a sturdy carry case along with various tips, spare butane cartridge, solder sucker, tip sponge and some handy tools.
Obtaining these items separately would costs heaps more! Save a fortune and get them all at once here.
Loosen rusted nuts and bolts. Ideal for Mobile Technician, Auto Electrician. Hot Air Blower (flameless) Tip. 1.8 mm Conical tip.
2 Butane Cartridges - refillable. Easy Start and reliable Piezo ignition. Stays Hot after initial ignition. Up to 550°C at Soldering tip. Up to 1300°C Blow Torch.
Easy Adjustment of gas flow. Hugh 7mm wide Chisel Tip. Filtered refill gas is mandatory. Manufacturers of cigarette lighter gas refill cans do not need to remove all the impurities from their gas since cigarette lighters do not have fine gas jets.
However, our professional gas powered tool has a replaceable and extremely fine orifice fitting which serves as a filter for all the gas before it reaches the tiny flame jets (one spare is supplied with this tool). Use only refill gas which clearly states on its can Extra Purified or Professional Grade - High Purity (be wary if only the word filtered is shown). Otherwise a very frustrating reduction in heat may eventually result in no flame at all. If included in parcel with Solder Pro.
Butane Gas Can - 250mL Extra Purified & Filtered Gas. Liquid Energy Cell (empty gas cartridge) (2 supplied with Solder Pro 180K). Filter/Orifice (1 spare supplied with Solder Pro 180K). Tip - 1.8MM Conical Shape (1 supplied with Solder Pro 180K).
Tip - 4mm Angled Shape. (not supplied with Solder Pro 180K). Tip - 7mm Chisel Shape. (1 supplied with Solder Pro 180K).
Tip - Flameless Heat Blower. Deflector attachment for Hot Air tip (1 supplied with Solder Pro 180K).
Spare - SOLDERING T IP. Is the brand PROTRONICS or what. A Brand name can often be -rightly or wrongly- perceived as being an important feature of a product. However, a brand name can sometimes have little bearing on the quality of the product. For example, some years ago I stocked Fluke 19 DMMs.
100% of them were faulty. Commonly manufacturers print different brand names on different batches of identical products.
In my listings is for the following two reasons. Has received a widespread & positive reputation. On the pictures & images prevents re-using. The omission of brand names in item listings does not detract from the high quality of such items.
Every feature or detail of specification in this listing, has been very carefully and honestly described. However, we invite suggested corrections regarding unintentional inaccuracies or mistakes found in our item descriptions. Therefore, regardless of the brand, we guarantee that the quality and specifications of this product is exactly as is described in this listing. Is it brand new & unused? All items are brand new unless clearly identified in the description as being used.
Pay for item within 48 hours. Goods are not held after 7 days. Select "Bank Deposit" in the checkout. Use your User-ID/Name (not the item number) as your deposit reference.
Personal Cheque: Please include your User ID/Name & Item numbers. All prices are in Australian Dollars, including GST.
Pictures are for illustrative purposes only. Specifications that do not affect the main usage of the products, are subject to change without notice. Errors, omissions or inaccuracy in our item details are unintentional. We are not liable for loss due to your unintentional misunderstanding of our information. A fault caused by user abuse such as dust or water entry, is not a manufacturing defect. Parcel is left at your address if unattended. Parcel is NOT left at your address when unattended.
Lost Parcels: Tracking is included (within Australia). (NT, WA & TAS destinations, up to 14 days). Economy Sea: Does not include tracking.
(1-3 weeks) (Likely 14 days to NZ, UK & USA). (1-2 weeks) (Likely 10 days to UK & USA). (1-1½ weeks) (Likely 7 days to UK & USA).
We pack items very carefully. Before you sign for a consignment (when delivered), carefully check that you have all parcels and that they are intact and undamaged. We cannot be held liable for missing or damaged items (in transit) caused by external damage to the adequate packaging. Feedback: Feedback builds trust between buyers and sellers. We hope that you might do the same for us.
We are more than happy to assist with your enquiries. We are only human - if you have a problem let us know prior to leaving feedback. The item "SOLDERING IRON, BLOW TORCH, FLAMELESS HEAT GUN KIT, 7mm Tip SolderPro 180K Iroda" is in sale since Friday, July 1, 2016.
This item is in the category "Industrial\CNC, Metalworking & Manufacturing\Welding & Soldering Equipment\Soldering/Desoldering Equipment & Accessories\Soldering Guns & Irons". The seller is "protronics-au" and is located in Gunnedah, NSW. This item can be shipped worldwide.
DURABILITY / RELIABILITY:: Heavy Duty
PURPOSE:: Wiring & Circuit Repair; Paint Removal; Brazing
Model: SolderPro 180K
FUNCTION :: Flameless Hot Air; Flame Heating; Solder-Tip Heat
Corded/Cordless: Cordless
Item Type: Soldering Iron
Type: Soldering Kit
INDUSTRY:: Automotive; Aviation; Electronics; Electrical
PRODUCT / EQUIPMENT TYPE:: Heating & Soldering
QUALITY:: High
POWERED BY:: Butane Gas
Features: Butane/Gas powered
MPN: T2651
Power: 185 Watt
Brand: IRODA